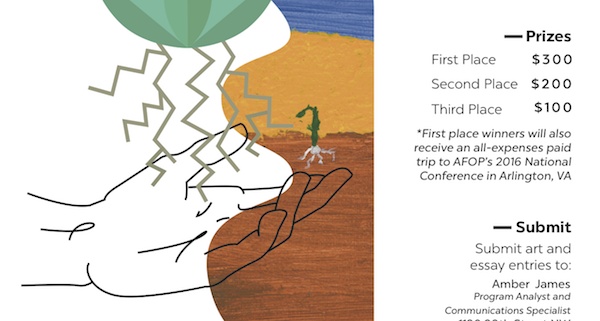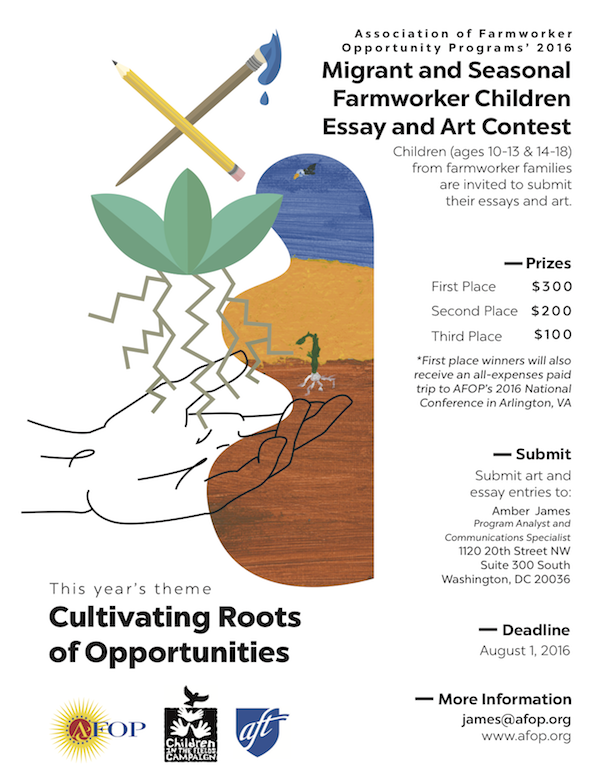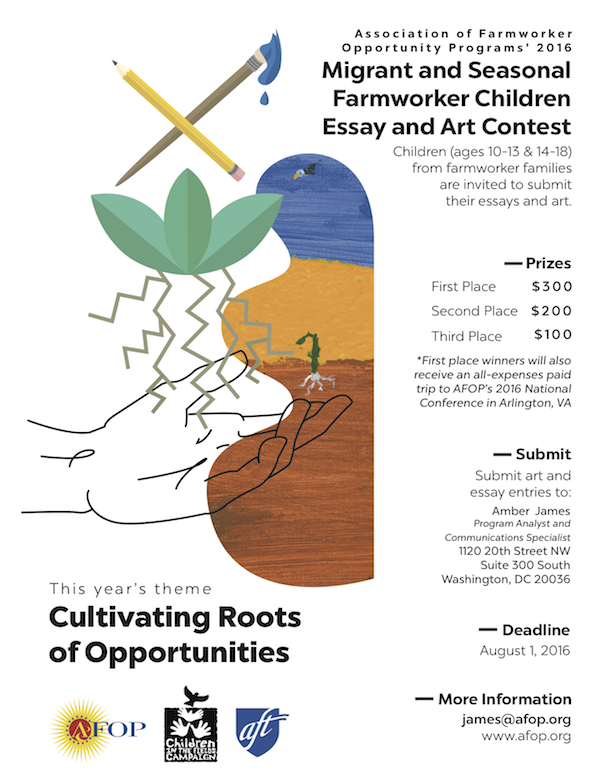 The Association of Farmworker Opportunity Programs' (AFOP) Children in the Fields Campaign is proud to announce that we are now accepting submissions for the 2016 Migrant & Seasonal Farmworker Children Essay & Art Contests. The theme selected for this year's contests is Cultivating Roots of Opportunities and the contest flyer and guidelines have been posted in both English and Spanish on our website.
Through AFOP's Migrant & Seasonal Farmworker Children Essay & Art Contests, each year we are able to collect hundreds of essays and works of art from students across the country, giving farmworker children the opportunity to showcase their heartwarming and compelling stories on the national stage and to empower them through our contests as they find the power in their voice. Our mission is to show America the realities our farmworker families face through the eyes of their children and to spur action to provide better educational support for our farmworker children.
Winners are selected by a diverse panel of national community partners, including the American Federation of Teachers, National Consumers League, Human Rights Watch, and the National Migrant & Seasonal Head Start Association. Names of winners and winning entries will be published in AFOP's Washington Newsline and the best posters may be compiled to be presented to key members of Congress. All contact information of participants will be kept confidential.
In addition to providing these children with small scholarships to help cover their educational expenses, our first prize winners are invited to be recognized at AFOP's National Conference (#AFOP2016) on September 21, 2016 in Arlington, Virginia. Coming to our national conference to accept their award is, as one contestant described, "an inspiring, life-changing experience."
Winners will be notified via telephone or by mail by Wednesday, August 31, 2016. For more information or to review the contest guidelines, please contact Amber Lee James at 202.384.1767 or james@afop.org.
About the Children in the Fields Campaign:
The Children in the Fields Campaign is a project of the Association of Farmworker Opportunity Programs (AFOP), a national federation of non-profit and public agencies that provide job training and services for America's farmworkers. The campaign strives to improve the quality of life of migrant and seasonal farmworker children by advocating for enhanced educational opportunities and the elimination of discriminatory federal child labor laws in agriculture. For additional comment or an interview, please contact Daniel Sheehan, Executive Director, at 202.384.1754 or sheehan@afop.org.
https://afop.org/wp-content/uploads/2010/07/Contest-Image.png
776
600
AFOP Communications
https://afop.org/wp-content/uploads/2017/09/LOGOTAG-LINE-300x71.png
AFOP Communications
2016-05-26 14:23:13
2016-05-30 13:32:24
2016 Annual Art & Essay Contest Now Open!