HEALTH & SAFETY PROGRAMS
Empowering the farmworker community through health and safety education, resources, and advocacy.
OVERVIEW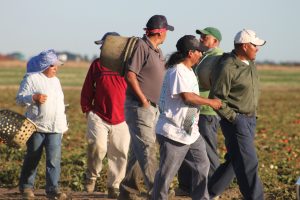 The Association of Farmworker Opportunity Programs recognizes that farmworkers face many obstacles to improving their lives, and the nature of their work is dangerous and harmful not only to their health but to the health of their family members as well.   Through our programs, we hope to help mitigate the health and safety risks that farmworkers are exposed to each day.
Since 1995, AFOP has partnered with the EPA to provide pesticide safety training to the farmworker community.  Since then, AFOP has committed to training as many farmworkers as possible through its active network of trainers.  AFOP has also partnered with OSHA since 2011 to provide occupational health and safety training topics.
OUR WORK
Agriculture is among the top three most hazardous occupations in the U.S.  AFOP recognizes the need to provide life-saving tools to avoid any health and safety risks of all agricultural workers.  AFOP Health & Safety operates two national programs:
Need more info? Contact Us!