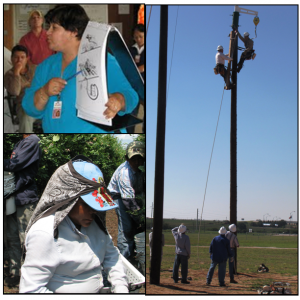 A case for support
The Association of Farmworker Opportunity Programs' (AFOP) mission is to improve the lives of America's farmworkers and their families via education, training, and advocacy.
AFOP's work on behalf of farmworkers must continue and be strengthened in the coming years, especially as federal, local, and state resources are jeopardized by the deficit reduction climate in this country.
The following examples highlight AFOP's work on behalf of the people who prepare and harvest the food we eat every day:
AFOP organizes and coordinates a continuous and successful effort to keep the National Farmworker Jobs Program funded, one of the most effective job training programs operated by the U.S. Department of Labor. It is also the only Labor program that targets farmworkers. This multi-year campaign has resulted in over 60,000 farmworkers being launched into careers with family-sustaining incomes and benefits since 2002, overcoming an eight year attempt to eliminate the program.
AFOP's Health & Safety Programs operates the largest and most extensive national program of pesticide safety for farmworkers in the country. Each year, AFOP provides a variety of federally approved trainings on pesticide safety and heat-related illness to over 30,000 farmworkers, resulting in reduced injuries and illnesses as well as helping growers comply with federal law. By continuing to expand this important program, we hope to reach more and more farmworkers and their employers to prevent avoidable tragedies.
AFOP's Children in the Fields Campaign works to improve the quality of life for migrant and seasonal farmworker children through community organizing, public education, and advocacy. The campaign has formed coalitions, youth councils, and developed Congressional champions to end the discrimination in the Fair Labor Standards Act. Under that law, children as young as 12-years-old are legally allowed to labor in agriculture for an unlimited amount of hours outside of school, using dangerous farm equipment and working in an environment that continually exposes them to toxic pesticides—conditions deemed illegal in every other industry and that can lead to serious injury or even death.
Please encourage these efforts and demonstrate your commitment to improve the economic conditions and protect the health and safety of our nation's farmworkers and their families.
You can support AFOP and its service to farmworkers by becoming a sponsor of AFOP's 40th Anniversary Gala, which will be held on September 22, 2011, at the Crystal City Marriott Gateway in Arlington, Virginia. We will celebrate four decades of educating, training, and advocating for America's farmworkers.