Funded by the U.S. Department of Labor's Occupational Safety and Health Administration (OSHA) through a Susan B. Harwood Training Grant, the program provides training to farmworkers and their employers on how to prevent heat-related illness or death.
According to the Centers for Disease Control and Prevention, farmworkers die from heat-related illness at a rate 20 times greater than that of the entire U.S. civilian workforce. Yet, with appropriate steps, heat-related illness is preventable and fatalities are easily avoided.  AFOP's Proyecto Sol seeks to save lives and preserve health, providing farmworkers and agricultural employers with the knowledge they need to make healthy decisions in the field.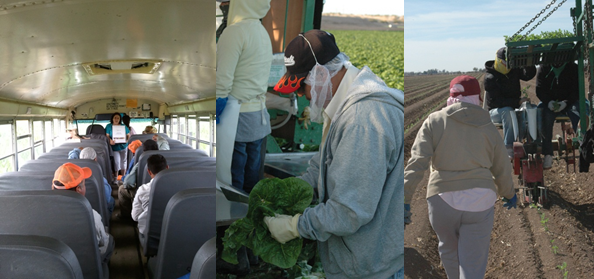 Heat Stress is a killer in the fields:
On an average day, temperatures in the fields are 8-10 degrees (F) hotter than the reported daily high from the National Weather Service
During peak production seasons, July and August, workers are in the fields 12 hours or more, in temperatures that frequently exceed 100 degrees
Many workplaces do not have shaded areas for a break from the heat
Frequently, clean drinking water is not available (we have reports that some unscrupulous growers charge the farmworkers for bottled water)
To protect themselves from pesticide exposure and skin cancer, farmworkers are instructed to wear long sleeves, long pants, socks, boots, hats and neck scarves— these precautions exacerbate the problem of heat
The EPA reports that Workers Compensation claims for heat-related illness among farmworkers is the highest of any occupation
North Carolina, Florida, and California lead the nation in heat-related fatalities among farmworkers
Proyecto Sol provides  training for farmworkers to recognize the symptoms of heat-related illness, how to prevent heat stress/heat stroke, and what to do in cases of emergency. It also provides agricultural employers with training on how to prevent a heat stress incident and how to properly respond if an incident does occur.
Few regulations exist for occupational heat stress prevention. Recognizing this gap, AFOP works to educate farmworkers and employers alike about the benefits of prevention and appropriate first aid response.
Many farmworkers do not speak English and do not have high levels of formal education. The Proyecto Sol curriculum is a bilingual, low-literacy approach to health education. Trainers employ a number of visual aids and interactive training techniques, striving to educate individuals with a wide array of learning styles.
The project operates in these AFOP member organizations: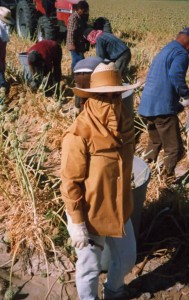 Arkansas Human Development Corporation
Ben Archer Health Clinic
Campesinos Sin Fronteras
Community Council of Idaho
Eastern Maine Development Corporation
Florida Dept. of Education Adult Migrant Services
Proteus Nebraska
Telamon Virginia
DISCLAIMER: This material was produced under a Susan Harwood Training Grant from the Occupational Safety and Health Administration, U.S. Department of Labor. It does not necessarily reflect the views or policies of the U. S. Department of Labor, nor does mention of trade names, commercial products, or organizations imply endorsement by the U. S. Government. The U.S. Government does not warrant or assume any legal liability or responsibility for the accuracy, completeness, or usefulness of any information, apparatus, product, or process disclosed.
COPYRIGHT INFORMATION: The materials available on this website may be copyrighted property of the Susan Harwood Training grantee. By federal regulation, OSHA reserves a license to use and disseminate such material for the purpose of promoting safety and health in the workplace. The grantees hereby authorize employers and workplace safety and health professionals to use this material, distributed by or through OSHA, in their workplaces or practices in accordance with the guidance contained in the material. To this end, permission is granted to use such copyrighted material solely for non-commercial, instructional, personal, or scholarly purposes. The material may be used and incorporated into other workplace safety and health programs on the condition that no fee may be charged for the subsequent use of the material. Use of the material for any other purpose, particularly commercial use, without the prior, express written permission of the copyright owner/s is prohibited. Furthermore, any modification to the material is prohibited without the prior, express written permission of the copyright owners.