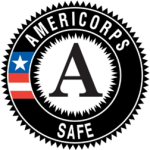 The SAFE AmeriCorps Program (Serving America's Farmworkers Everywhere) deploys 28 members into agricultural communities from Maine to California. These passionate, enthusiastic individuals devote a year of their life in service to the farmworkers and communities to which they are assigned. Their primary task is to provide pesticide safety education, but they are also engaged in providing direct services such as food banks, clothing drives, health outreach, tutoring, mentoring youth and participating in community service activities.
Overall, the members will dedicate 36,000 hours to farmworkers. Throughout the year, they will strive to meet and exceed their goal of training 12,600 farmworkers on Pesticide Safety; 3,760 on Project LEAF; 1,578 farmworkers on heat stress prevention through Proyecto Sol; and 560 farmworkers on other health-related topics.
Health trainings, are not the only area SAFE AmeriCorps members are reaching farmworkers in: 2,100 farmworkers will be impacted through direct services, such as translation and transportation; 1,046 farmworkers will receive referrals to other services or agencies; 1,572 partnerships with local service providers, as well as academic, and religious institutions will be built; 420 volunteers will be recruited; and 56 activities will be held all around the country to commemorate César Chávez day, Farmworker Awareness Week, as well as activities around other correlated events and dates.
In 2011 SAFE AmeriCorps members impacted a total of 69,200 farmworkers with health and safety trainings and direct services. In 2010 78,002 farmworker were reached.
Currently SAFE AmeriCorps members are serving farmworkers in:
Arizona, California, Florida, Idaho, Maine, Maryland, New Mexico, North Carolina
Check in on our AmeriCorps members: